On this page you will find links to key resources and tools designed to assist COVID-19 research studies in Africa, as well as information regarding ongoing studies and links to relevant groups and organisations.
Easy access links:
NEW: Clinical Characterisation Protocol (CCP)
In collaboration with WHO, the ISARIC consortium have developed the Clinical Characterisation Protocol (CCP) which is designed for investigating any severe or potentially severe acute infection of public health interest. The Clinical Characterisation Protocol (CCP) can be used for the rapid, coordinated clinical investigation of confirmed cases of COVID-19.
ANTICOV | DNDi
The ANTICOV clinical trial aims to respond to the urgent need to identify treatments that can be used to treat mild and moderate cases of COVID-19 early and prevent spikes in hospitalizations that could overwhelm fragile and already overburdened health systems in Africa.
The clinical trial will be carried out at 19 sites in 13 countries by the ANTICOV consortium, which includes 26 prominent African and global research and development (R&D) organizations, coordinated by DNDi.
Enhancing collaboration to strengthen Africa's clinical trial capacity through an online platform
There are over 1000 clinical trials being carried out worldwide on COVID-19, yet only 3% of these are in Africa. However, due to the relatively low number of cases, the African scientific community has been given an opportunity to plan and define new way of doing things under COVID-19 lockdowns.
The African Academy of Sciences (AAS) launched the first iteration of the Clinical Trials Community (CTC) online platform. This is known as a Minimum Viable Product (MVP), which enables the sharing of information on ongoing COVID-19 clinical trials in Africa to occur sooner due to its early release. Its aim is to increase the visibility of African clinical trial sites and investigators with potential interest in COVID-19 clinical trials. This will enable and enhance collaboration throughout the continent, in hope of reducing the duplication of work across the region and therefore accelerating the fight of combatting COVID-19. The full article can be accessed here.
SOP's, Protocols and Study Materials Shared with The Global Health Network
The Global Health Network is inviting research teams working across Africa, Asia and Latin America who are currently running or setting up COVID-19 studies to share their study resources to support a faster implementation of research studies during this pandemic. You can read more about this crowdsourcing initative here.
IPC guidelines for ambulances transferring known or suspected COVID-19 cases
These guidelines outline the minimum operational guidance for infection prevention and control (IPC) in ambulances transferring suspected or confirmed COVID-19 patients. Ambulance staff should be trained in the procedures outlined here as part of their induction and prior to starting work.
Global Shapers Community resources - Guidelines and Translations
South African Hubs (Johannesburg, Soweto, Durban, Stellenbosch, Cape Town and Tshwane) have come together to translate essential information and resources into various South African languages.
WHO AFRO Region
Coronavirus (COVID-19)
Collection of news, information and resources specific to the COVID-19 pandemic in Africa, developed by the the WHO Africa Regional Office. Includes links to:
WHO Africa Dashboard
Situation Reports (weekly reports detailing the development of the COVID-19 pandemic in the WHO AFRO Region)
Technical Documents
COVID-19 Newsletter Articles
Coronavirus (COVID-19) Situation Reports
Select 'Situation Reports' Tab
The WHO AFRO regional office are producing weekly reports detailing the development of the COVID-19 pandemic in the WHO AFRO Region.
African Academy of Sciences (AAS)
Global Health Security: COVID-19 in Africa
The AAS is maintaining a collection or resources, information and updates specific to interventions towards managing the COVID-19 outbreak in Africa. This includes the following.
Webinars and FAQs
The AAS are hosting regular webinars addressing a wide range of topics related to the impact of COVID-19 in Africa.
Data and Insights
Links to the 'Africa COVID-19 Map' and the Global Coronavirus Cinical Trial Tracker.
Africa Centres for Disease Control (Africa CDC)
COVID-19 Daily Updates
The Africa CDC is providing daily updates on the COVID-19 pandemic in Africa. This includes case numbers, best health practices, and outbreak briefs. This mainpage also has links to guidance documents, training videos, and press briefings.
COVID-19 Resources
The Africa CDC resources page lists fact sheets, policy updates, outbreak briefs, and COVID-19 guidance.
COVID-19 Multimedia
The latest videos and audio resources on COVID-19 can be found on the Africa CDC Multimedia page. These resources include press briefings, webinars, and instructional videos.
Selected Africa CDC Documents
Recommendations for Stepwise Response to COVID-19
Africa CDC is recommending that African Union Member States tailor their COVID-19 response activities to the stage of their epidemic and to the African context. This document provides a high-level mapping of outbreak stages with guidance on how to time the minimum uptake of different interventions that have been recommended by Africa CDC, driven by evidence and science.
Arabic | English | French | Portuguese
Statement on Medications to Treat Novel Coronoavirus Disease (COVID-19)
In response to inaccurate information being distributed through traditional and social media regarding prevention and treatment of COVID-19, the Africa CDC released a statement on medications to treat COVID19, accessible in the following languages:
Arabic | English | French | Portuguese
Guidance on Community Social Distancing During COVID-19 Outbreak
Social distancing is an accepted strategy to delay and reduce the magnititude of outbreaks. Africa CDC explain how to engage communities to make sure they partake and implement social distancing successfully.
Arabic | English
Guidance on Contact Tracing for COVID-19 Pandemic
Africa CDC have produced a 6 step guide on how to carry out contact tracing in reference to the COVID-19 pandemic. Contact tracing is a good way to help limit transmission when cases are fairly low in a country, yet becomes more difficult and resource intensive as the number of cases increases.
Arabic | English | French | Portuguese
Guidance on Easing Lockdown
Africa CDC explain the considerations for easing public health and social measures including lockdown in African Union Member States.
Arabic | English | French | Portuguese
Why case investigation and contact tracing is important in the management of COVID-19
On 12 May 2020, the Africa CDC hosted this surveillance webinar on Fundamentals of case investigation and contact tracing, presented by Dr. Hillary Bower and Dr Justin Maeda.
How do we use surveillance data to understand the person, time, place characteristics in an outbreak
On 29 April 2020, the Africa CDC hosted this webinar titled 'How do we use surveillance data to understand the person, time, place characteristics in an outbreak'. This included a discussion of some the commonly used methods of summarising and presenting data in a meaningful way. The webinar was presented by Mr. Womi Eteng Oboma and Dr Siobhan Mor.
PANDORA-ID-NET Consortium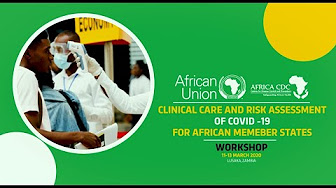 Here is a series of presentations on clinical care and risk assessment of COVID-19 for African member states from the PANDORA-ID-NET Consortium. The topics cover clinical case management, screening at Points of Entry and the OneHealth approach and were part of a workshop run in Lusaka, Zambia on 11-13th March 2020.
Amref Health Africa

COVID-19 Africa Information Centre
Includes a social media toolkit, vidoes documenting ongoing community engagement efforts concerning COVID-19, and information on travel restrictions and national guidleines in relation to COVID-19 in Africa.
Leap
Leveraging the innovative mobile technology – Leap, Amref and the Ministry of Health in Kenya have launched a two-month campaign to educate health workers in Africa on COVID-19. This project aims to enable health care workers to educate communities on the virus and relevant prevention measures. Using this mobile learning platform, health workers will also be trained to identify, isolate and refer suspected cases as well as maintain safety standards at points of entry or high-risk areas to prevent possible transmission.
AfricArxiv
Multilingual COVID-19 Information Videos
This collection of videos, brought together by AfricArxiv aims to deliver short, consistent information relating to COVID-19 in as many regional/local languages as possible. AfricArxiv is encouraging researchers and other communicators who are able to translate a set of COVID-19 talking points into a local language to submit their own recordings.
Africa Union, AUDA-NEPAD & ILO

COVID-19 Occupational Safety and Health Guideline Series

Africa Union have teamed up with AUDA-NEPAD and the International Labour Organisation (ILO) have created a Guideline series for different specific Workplace Sectors. These Guidelines can be found using the links below:
CovidTrauma Study
CovidTrauma is a research network to monitor how the current COVID-19 pandemic is impacting orthopaedic trauma services across Africa. It aims to promote cooperation as an orthopaedic community to tackle this unprecedented challenge. If you are interested in enrolling as a key member of this network and registering your hospital, you can find more information here.
This study is led by AO Alliance Foundation with collaborators in:
University of Cape Town
University of Liverpool
University of Oxford
IGOT and University of California San Francisco
Our World In Data

Policy Responses to the Coronavirus Pandemic
These maps, developed by Our World in Data, illustrate the ongoing COVID-19 policy responses by African naions and the Rest of the World
Key research organisation contacts:
The following is a list of contacts within African organisations, including the WHO Africa, CDC Africa and EDCTP Centres of Excellence who are preparing to deal with this response. You can find more information also via the partner links listed in the right hand navigation.

If you have anything to add or suggestions on what would be useful please get in touch: info@theglobalhealthnetwork.org
For more information and access to all of the resources and documents featured in these video tutorials, please visit the ISARIC COVID-19 Clinical Research Resources
For any questions or queries related to these tutorials, Please contact the ISARIC Global Support Centre: ncov@isaric.org or The Global Health Network: training@theglobalhealthnetwork.org