Information on the research response in Africa to COVID-19
Here we attempt to bring together all the information, resources and updates being provided by all the African networks and pan-African organisations who work in health research. The aim is to make it as easy as possible to find the right information, support and guidance, by connecting all the African initiatives together and making all the sources of reliable information and tools both accessible and discoverable. This is located within the wider COVID-19 Hub which also includes links to the updated international tools and resources through the wider network.
The focus of The Global Health Network is to support health research in places and settings where evidence is lacking. In this outbreak, as is the case in emerging new diseases, we have so many unknowns. In Africa there are particularly pressing questions. The need for validated diagnostics tools that can be used in the community is perhaps the most urgent to help keep potential cases isolated. Rapid and mobile diagnostics that can be used outside of major healthcare facilities should help reduce the potential burden on health systems and prevent wider impact by the public not being able to access everyday healthcare due to services being distracted and overwhelmed by an outbreak. Understanding the disease morphology is also important as well as undertaking clinical trials for vaccines if they come into clinical development.
The first case of COVID-19 on the African continent was confirmed in Egypt on February 14th 2020. Since then, more than 50 countries in Africa have now confirmed cases. The number of confirmed cases has risen to more than 10 000 and caused more than 500 deaths. While the virus was slow to reach the continent, infection has now grown exponentially reaching not only capital cities but multiple provinces.
"COVID-19 has the potential not only to cause thousands of deaths, but to also unleash economic and social devastation." said Dr Matshidiso Moeti, WHO Regional Director for Africa. "This requires a decentralised response, which is tailored to the local context." WHO is working with governments across Africa to scale up their capacities in critical response areas. Here you can read an update from the WHO.
If you have anything to add or suggestions on what would be useful please get in touch info@theglobalhealthnetwork.org


African Academy of Sciences
COVID-19 in Africa: Interventions towards managing the COVID-19 outbreak
'Africa needs a body of knowledge to draw upon advice for governments based on best-practice in various areas of managing the pandemic. Fellows of the African Academy of Sciences (FAAS), eminent scientists in and outside Africa, have put in their input on the work done so far. However, there is an urgent opportunity for African scientists to do more to mitigate the greatest threat to humankind in our generation. By working together, individuals and institutions could leverage our synergies to result in the whole being more than just the sum of its parts. The African Academy of Sciences (AAS) supposes that the open questions for researchers and policymakers on the continent can be worked upon to build a coherent response.'
AAS Webinar - COVID-19 in Africa: Research and Development Oppurtunities
Access the presentation slides here.


Africa Centres for Disease Control (Africa CDC)
Recommendations for Stepwise Response to COVID-19
Africa CDC is recommending that African Union Member States tailor their COVID-19 response activities to the stage of their epidemic and to the African context. This document provides a high-level mapping of outbreak stages with guidance on how to time the minimum uptake of different interventions that have been recommended by Africa CDC, driven by evidence and science.
Arabic | English | French | Portuguese

Statement on Medications to Treat Novel Coronoavirus Disease (COVID-19)
In response to inaccurate information being distributed through traditional and social media regarding prevention and treatment of COVID-19, the Africa CDC released a statement on medications to treat COVID19, accessible in the following languages:
Arabic | English | French | Portuguese
PANDORA-ID-NET Consortium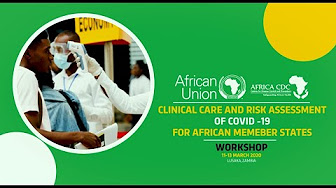 Here is a series of presentations on clinical care and risk assessment of COVID-19 for African member states from the PANDORA-ID-NET Consortium. The topics cover clinical case management, screening at Points of Entry and the OneHealth approach and were part of a workshop run in Lusaka, Zambia on 11-13th March 2020.



CovidTrauma Study
CovidTrauma is a research network to monitor how the current COVID-19 pandemic is impacting orthopaedic trauma services across Africa. It aims to promote cooperation as an orthopaedic community to tackle this unprecedented challenge. If you are interested in enrolling as a key member of this network and registering your hospital, you can find more information here. Anyone, irrespective of grade or job role, can register their facility to join the COVID trauma research network.
This study is led by AO Alliance Foundation with collaborators in:
University of Cape Town
University of Liverpool
University of Oxford
IGOT and University of California San Francisco

Key research organisation contacts:
The following is a list of contacts within African organisations, including the WHO Africa, CDC Africa and EDCTP Centres of Excellence who are preparing to deal with this response. You can find more information also via the partner links listed in the right hand navigation.